Vision, mission statement and service values
Vision
"Our goal is to constantly provide the most superior and unrivalled trading experience for our clients"
Mission statement
The business was started with a simple ethos; to enable people with a genuine interest in the financial markets to be able to trade on them. That fundamental belief remains at the heart of everything we do at CMC Markets and staying true to that has been pivotal to our success.
Service values
Our vision of delivering an unparalleled experience to our clients helps maintain a loyal trading community, contributing towards optimal returns for our shareholders and increasing long-term value for the business.
As well as offering competitive pricing, products and trading capabilities that we know our clients desire, we continue to strive to ensure that our clients see us as the most trusted and recommended provider in the industry through excellence in client service.
CMC Markets continues to place the utmost importance on client service and the continuous delivery of an unrivalled experience to our clients through our behaviour, image, product  innovation and internal culture. With this client-centric vision at the core of our business we continue to strive to ensure that CMC Markets will become the brand of choice in all of our global markets.
We measure how well we are doing on our service promise through client feedback and, where independent studies exist, our Net Promoter Score (NPS).
Net Promoter Score (UK, Australia & Germany)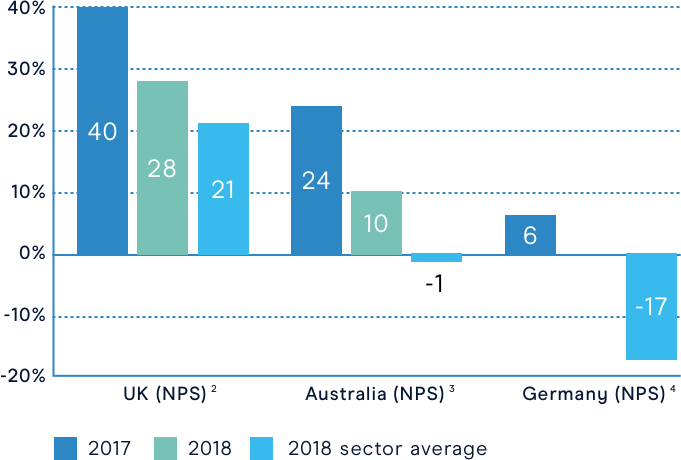 1 % of promoters minus % of detractors.
2 Investment Trends 2018 UK Leverage Trading Report (May 2018).
3 Investment Trends 2018 Australia Leverage Trading Report (December 2018).
4 Investment Trends 2019 Germany Leverage Trading Report (May 2019).